We do all major and minor repairs. The staff at Tony's Garage have the skills, equipment and experience to handle all of your automotive repair and maintenance needs.
Our seven fully equipped service bays allow us to quickly diagnose and make most repairs the same day. On site car rental facility is available for your convenience.
Repairs - Batteries - Mufflers - Tune Ups - Air Conditioners - Electrical Work - Safety Inspections - Computerized 4-Wheel Alignment - Quick While You Wait Oil Change & Lube
We are an authorized installer for Intoxalock Ignition Interlock!
Intoxalock is a top-rated ignition interlock provider with affordable pricing and a reliable, high-quality, easy-to-use device.
Our certified Intoxalock technicians install, service and remove these devices. The Intoxalock on-site calibration station kiosk makes servicing the device fast and simple. Let us help you get back on the road after a DUI with an ignition interlock device.If you need an ignition interlock device installed in your vehicle, call Intoxalock directly at (833) 918-1407 and mention that you'd like to install with us. They will set up your account and schedule your appointment.
A.S.E. and Mastertech Certified!

Experience and Training makes the difference.
Tony's was established in 1969. Our technicians train continuously and are A.S.E. and Mastertech Certified. That, along with the finest quality replacement parts and up-to-date diagnostic equipment, means you'll get the best automotive service possible.

Look for this symbol before you have anyone repair your vehicle.

Call us today (860) 429-0001
All major & minor repairs!

All major & minor repairs: tune-ups, brakes, mufflers, batteries, shocks plus
FAST WHILE YOU WAIT OIL CHANGE & LUBE
Accurate repairs depend on accurate diagnostics.

We invest in the latest computer diagnostic equipment for all domestic and foreign vehicles including Volvo, SAAB and VW. This allows us to quickly diagnose your problem and make most repairs the same day.
Need tow service?

Tony's Garage offers full towing services plus 24 hour emergency towing.

24 hour emergency towing!
We carry many major tire brands!

We carry many major tire brands.
Don't forget to ask about our 4-Wheel computerized Alignment.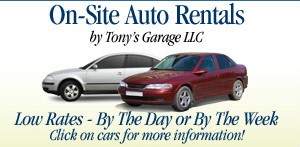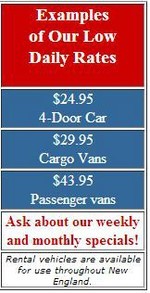 Late model 4-Door Automobiles and 7- Passenger Mini-Vans.
Clean and dependable! Our vehicles are maintained by the fully trained mechanics at Tony's Garage. Our late model vehicles feature:
Automatic transmissions

AM/FM Radio

Air Conditioning
Tony's Garage Savings Coupon!

Click the image and print the coupon for savings!